Commercial Heating
& Air Solutions
Commercial and Business HVAC Springfield, MO – Heating and AC Repair Services
HVAC contractors that do light commercial work salivate when they install or change out packaged roof top units. Setting, piping, and wiring a PRTU takes less than two hours for three men. The profit margins are incredible, call backs are few, and as long as the equipment heats and cools, everyone is happy. After all, it is out of sight out of mind!
Some of the great HVAC services we provide include:
HVAC Installation
HVAC Repair
HVAC Maintenance
HVAC Design
Duct Work
If you are in need of any commercial HVAC services, give us a call today. Our rates are very reasonable and we offer emergency services for those repairs that just can't wait. We want to increase this portion of our business by 400% this year. What do we need to do to help you get us to our goal?
Sun-Aire Comfort Systems, LLC is the number one choice for all your HVAC installation needs. Our team is fully certified, licensed, and insured for all types of HVAC installation jobs, including residential and commercial. We will find the perfect fit for your individual business's needs. Finding the right size will save you money, and your unit will be much more energy efficient!
Sun-Aire Comfort Systems, LLC not only offers HVAC installation services to the Springfield, MO area, but we also offer HVAC maintenance and repairs. It is important to keep your HVAC unit running properly year round. By having regular service checkups, your unit will function at its best. If your HVAC does need a repair, our team is available at all hours and will be out to your business quickly to assess the problem and begin repairs.
Mini-Splits are great for commercial applications. This year we want to focus on mini-split installations in:
Specifically the walls of hotels and motels. In the summers, hallways can be hotter and more humid than the rooms or other areas of the building, and in the winter, the opposite happens.
Many interior conference rooms do not have control of the heating and cooling systems, particularly in the winter time when the building heat is controlled in another space. Each person is a little furnace pumping out heat at 98.6°. This is the perfect application for a min-split.
More small businesses can afford to install servers, which generate a lot of heat. This is the perfect application for a mini-split.
Repair Packaged Roof Top Unit
Replacing one 10 ton compressor for retail store that is a favorite in Springfield.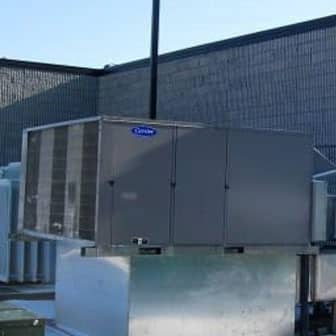 Industrial Application
New Carrier packaged air conditioning and heating unit, with multiple zones and bypass dampers. Spiral round duct serves the building.
Commercial Refrigeration
New condensing unit for the freezer of a popular college eatery that you may have enjoyed dining at.